The airport
The most of the international flights arrive in the terminal Pulkovo 2 of the St. Petersburg airport Pulkovo.
How to get to your hotel from the airport
The simplest way is to order a taxi at the counter of Taxi Pulkovo — the official airport taxi company — right in the arrival area of the airport. The personnel at the counter speaks English. To book a taxi in advance or to check the prices, call +7-812-900-0000. E.g., the economy price from Pulkovo 2 (the international terminal) to Sokos Palace Bridge is 1000 Rubles (25 Euro or 30 US Dollars), and the price of the business class taxi is 1500 Rubles (38 Euro or 50 USD).
If you stay at one of the Sokos hotels, you can also book a taxi through a concierge service by writing a request on sokos.pb.service@nullbk.ru (Sokos Palace Bridge) or sokos.vo.service@nullbk.ru (Sokos Vasilievsky).
Arriving at night. St. Petersburg's status as "the Venice of the North" is somewhat boosted by the fact that the city, like its Italian counterpart, is almost entirely built on a series of islands across the delta of the Neva River. The current number, as counted in 1975, is 42. Many bridges connecting the parts of the city are raised in the night time. For instance, if you want to reach Vasilievsky island — the place, where the two Sokos hotels are located — you have to take into account the schedule of Blagoveshchensky Bridge. The bridge is first raised at 1.25 a.m.; the next window to cross it is from 2:45 a.m. to 3:10 a.m.; the bridge is operating normally from 5 a.m. If you are arriving at night, please check with the taxi company or with your hotel.
The other options. An extremely cheap (about 2 Euro) but also a challenging option is to use a city bus from the airport to the subway station "Moskovskaya", take a subway to "Nevskiy prospekt" (the blue line), change to "Gostiny dvor" (the green line) and then get off on "Vasileostrovskaya". As the city buses and the subway are crowded and inconvenient to the passengers traveling with large wheeled luggage, we do not recommend this option.
Public transportation
A short introduction to St. Petersburg public transport system.
An unofficial route planner (some routes may be outdated due to temporary construction sites).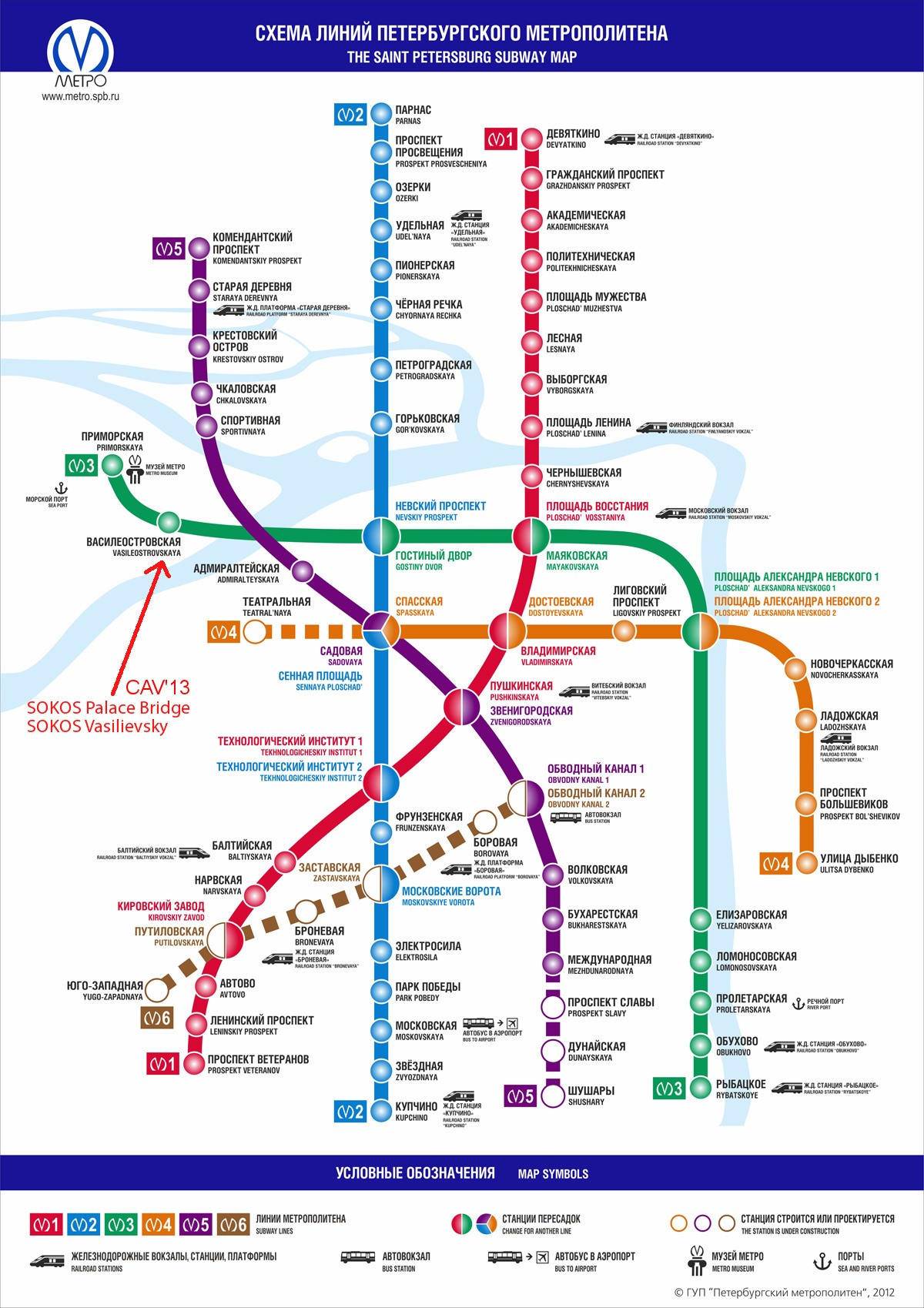 Local facilities
Cafees and restaurants

There are many cafes and restaurants on Vasilievskiy island, e.g., on the street called 6-ya/7-ya Liniya next to underground station Vasileostrovskaya. You can find a lot of restaurants on Nevskiy prospekt in the very center of the city.
Pharmacies nearby

| Pharmacy | Address | Working Hours |
| --- | --- | --- |
| Fort, nearest | 1-ya Liniya 40 V.O. | 24 h |
| Pharmakor | Sredniy Prospekt 22 V.O. | 8 am – 22 pm |
| First Aid (Pervaya Pomoshch) | 6-ya Liniya 27 V.O. | 24 h |
| Ozerki | 8-ya Liniya 37 V.O. | 8 am – 22 pm |
Emergency services

In case of an emergency situation you can call the international service 112 in order to get the ambulance, fire service or the police. Also you can use local phone numbers:
+7 812 01 – for the fire and rescue service
+7 812 02 – for the police
+7 812 03 – for the ambulance